Happy September! With the announcement of our Fall Mini Sessions coming in just a month, we have had one question more than any other from families on what they should wear. Coordinating your outfits between your husband and the kiddos can be a daunting task, but it doesn't have to be, so we decided to create a few resources for families who want to look "on point" for their family portraits.
To start things off, here are some sample clothing mood boards and color palettes to kick-start your creativity as you plan your family's outfits. Fall is our favorite time of year as short lived as it is, and we love warm color tones such as blush, slate blue, burnt orange, and a personal favorite – mustard! We designed these for a family of four in order to cover options for women, men, girls, and boys – but we just wanted to add that we think families are beautiful no matter what form they take. The color palettes below will work whether you've got two people in your family, six people in your family, two moms, or two dads (and girls don't have to wear dresses, either – we just included lots, well, because we love them!)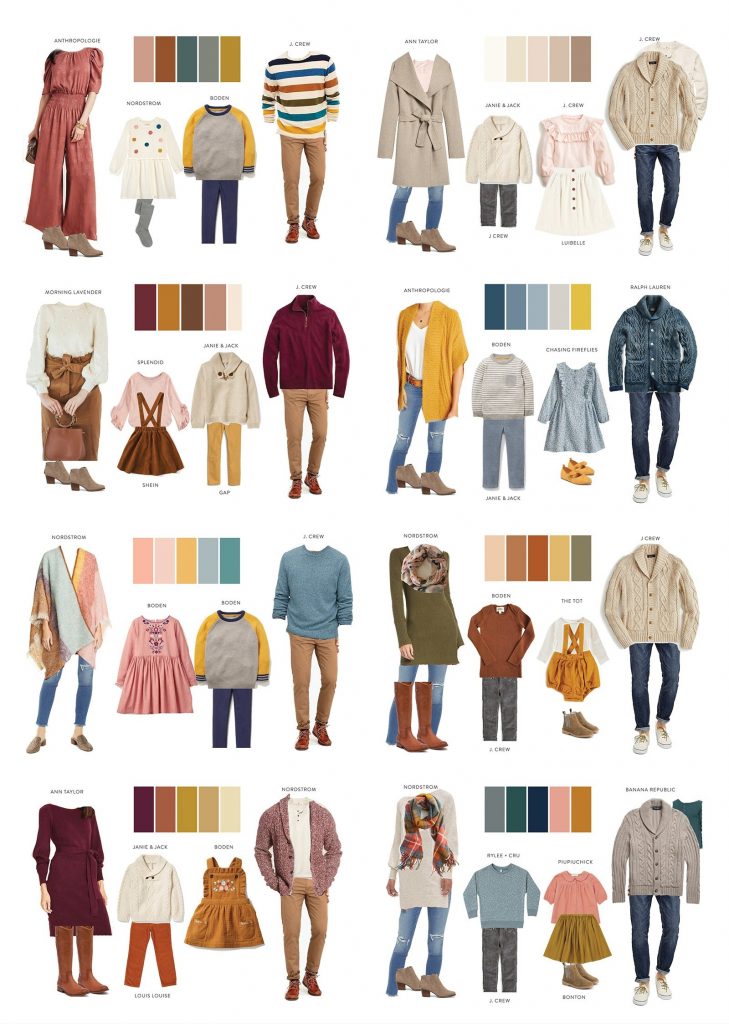 1. SIMPLE IS BETTER
Simple and boring do not have to be synonyms when preparing for your family portraits. We do suggest that you don't match completely, but start with something classic (like jeans and a white blouse for Mom, jeans and a polo for Dad!) and then work off of that base.
Dress most of the family in varying neutral shades (i.e. ivory, gray, beige) and then sprinkle in some coordinating colors. You want colors that genuinely complement each member of your family: so for instance, soft colors (blush, slate blue, gray) or warm colors (brown, burgundy, orange, mustard). If you want colorful images, then you should choose a more vivid color scheme for your outfits!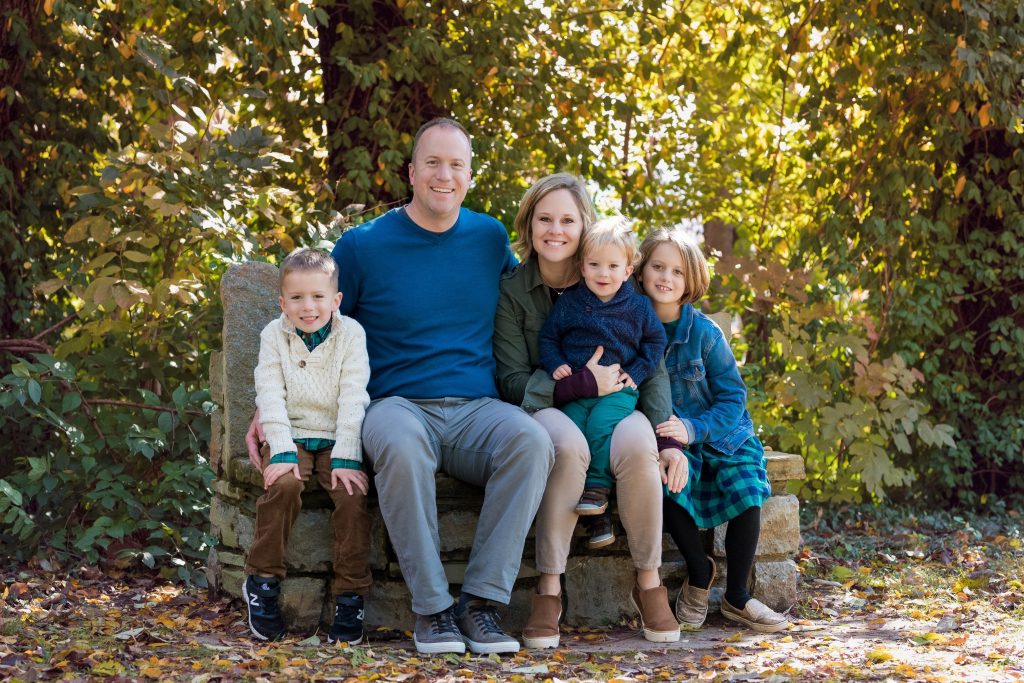 2. AS A GENERAL RULE, SOLIDS WORK BEST
Pops of pattern can absolutely look amazing, but if you're looking for a foolproof family combination, go with solids. To keep things from looking dull, try to include some textures (chunky knits, scarves, etc). Keep away from small plaid and small stripe prints.
3. STICK TO ONE OUTFIT
Don't over complicate things more than they need to be! One outfit is all that is needed to rock your awesome family session. Having an outfit change during your session will consume time and slow the momentum of being in the moment with your family.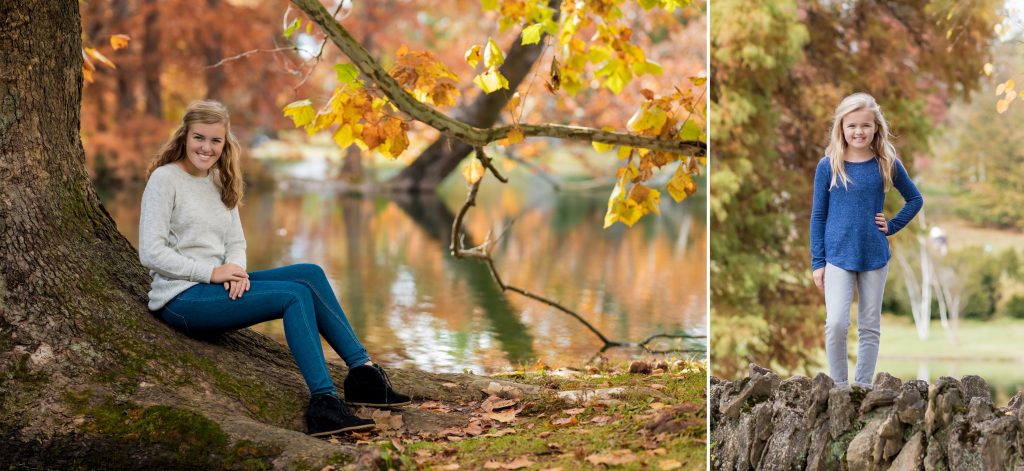 4. START WITH ONE PERSON
It can be daunting to try to think of everyone's outfits all at once, nearly impossible even. Take things one at a time, it's easier to visualize the entire puzzle once you know what one or two pieces look like. Start with Mom or a daughter since girl and women's clothing tends to be more vibrant and have more colors and prints.
6. HOW COULD YOU FORGET ABOUT THE SHOES?
Shoes are often the most forgotten element, but the can really make an outfit. If you're not the type of family who likes being barefoot, keep your footwear in mind. Nothing will throw off your coordinating outfits more than a dirty old pair of shoes. Try to stay away from running shoes and bright white sneakers.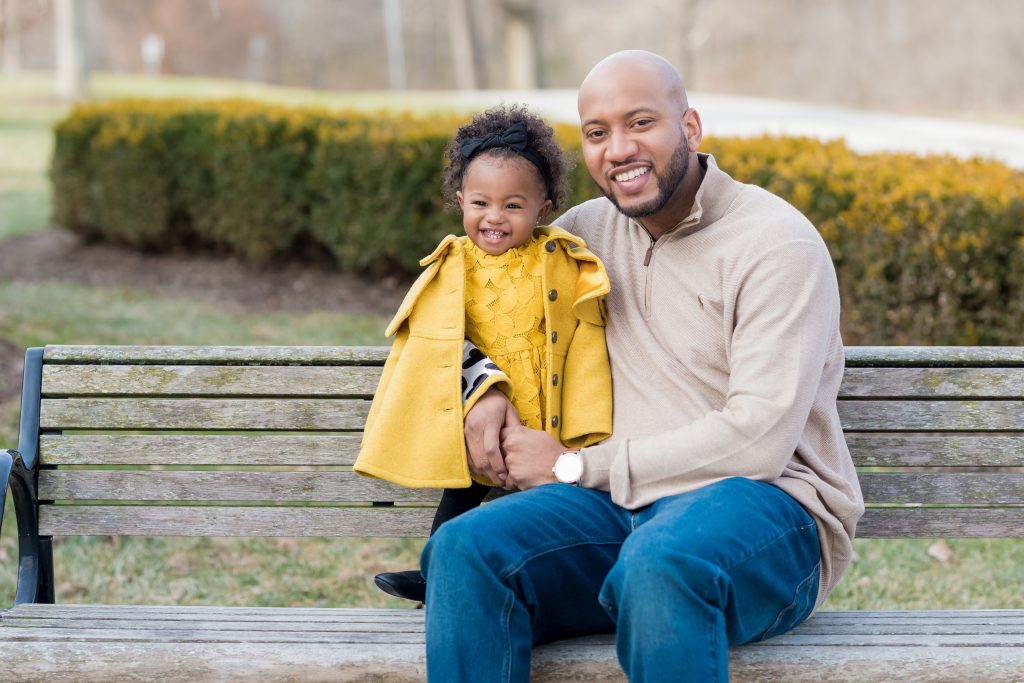 7. TRY IT ON
Try on your outfits well in advance for comfort and fit. Use a mirror and check all possible angles or yourself, not just the angles that you like the best. Next, try some activity in that outfit – sit, squat, sit and lean forward to make sure that you can move in the outfit and not too stiff in it. Children's clothing should work well being in motion so that we can be playful during your session (hanging on Dad upside down, flying, and tickling).
8. LET THE KIDS HAVE A SAY
Being parents ourselves, we know how stressful family sessions can be to prepare for, but try to think about it as your children. if your daughter isn't excited about wearing dresses, don't force her into one, especially if it doesn't reflect who she is. If your son isn't digging that bowtie, don't fight him on it, let his personality come out in another outfit choice. Happy kids really do make for happy portraits and memories.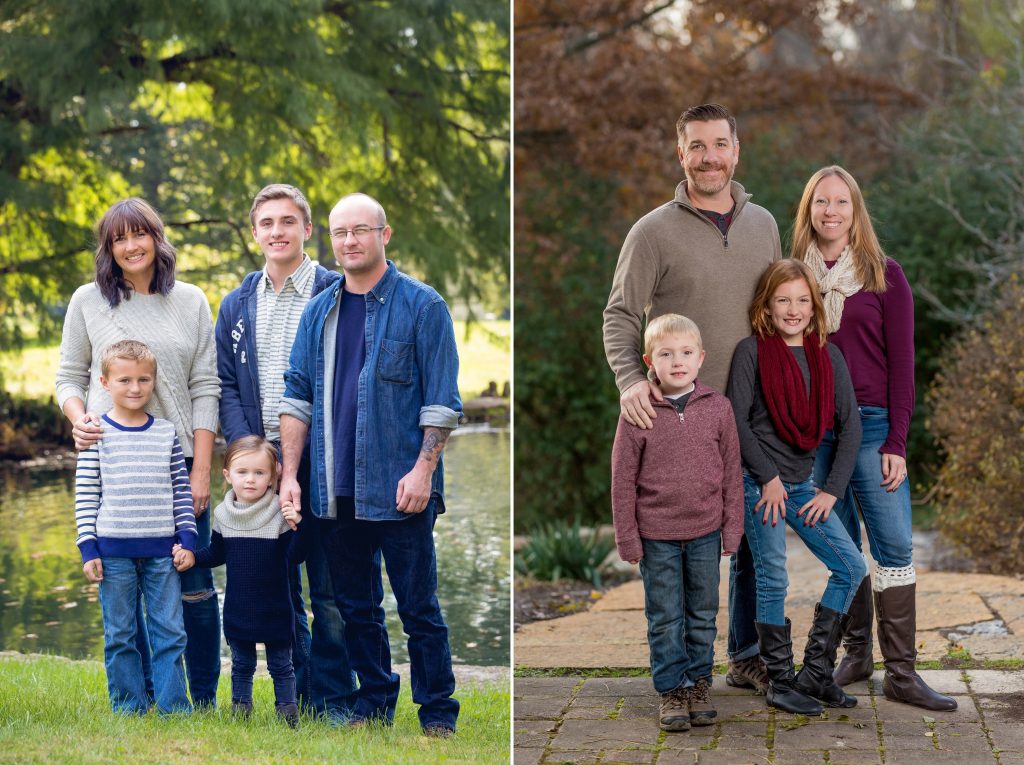 9. PLAN FOR THE SEASON
There is nothing worse than being uncomfortable in a perfect looking outfit. If you're planning an outdoor family session in October/November or March/April, consider bringing coats, gloves and hats just in case. Cincinnati weather is unpredictable during these months and planning ahead will avoid being uncomfortable during your session. In the summer months, dress in layers so that you can easily take items off if it's too sunny and hot outdoors.
10. BE COMFORTABLE
When it comes down to it, it's all about comfort. If you feel good in it, you will look good! Decide on clothing that gives you the freedom of movement, keeps you warm/cool, and won't require much maintenance throughout your family session.
11. CONSIDER YOUR HOME DECOR
If you're planning on hanging those awesome portraits of your family throughout your home, consider your living space. If you're going to hang an image of you and your family in your living room that's decorated in an all white aesthetic, more than likely you won't want your outfits to come off to dark. If you're hanging some portraits in a child's room or nursery, then think more vivid colored outfits.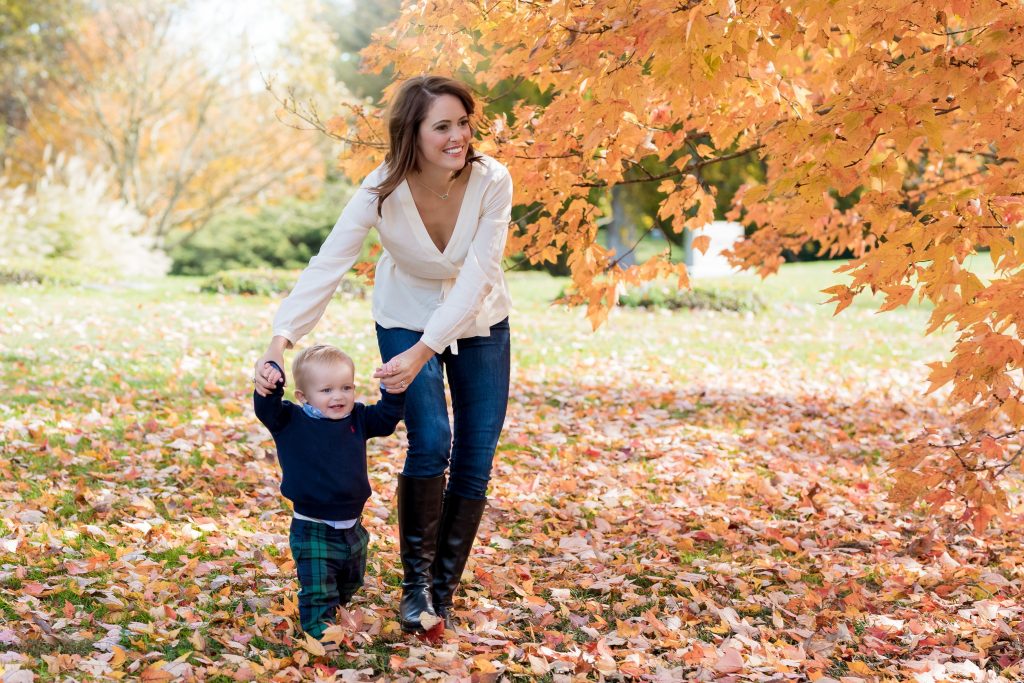 JUST SAY NO
Formal Clothes: Let your clothing match the season and your surroundings. A formal dress or a tuxedo will look out of place in the middle of a wooded park.
Bright White: If you love white and absolutely love it, try an off-white, cream or ivory instead.
Dark Colors: Blacks, browns, dark grey and dark navy shades should be avoided since they tend to darken the overall look and feel of your portraits and keep them from feeling bright.
Neon Colors: These colors can reflect onto your body creating overall skin tone issues.
Saturated Colors: Bright reds and yellows for example. Try a more muted version of these colors instead such as a darker red, or a mustard.
Logos & Text: Try to stay away from outfits that have logos and text that will draw attention away from your family's faces.
Transition Lenses: I understand how beneficial these are, but when we're talking memorable family portraits, transition lenses are the worst. If you wear glasses every day and that is a part of your personality, please wear them for your portraits. Issues with lens glare and shaded transition lenses prevent your eyes from being seen. You can add an anti-reflective coating to most lenses or wear just the frames is that is an option.
Athletic Shoes: We've said enough.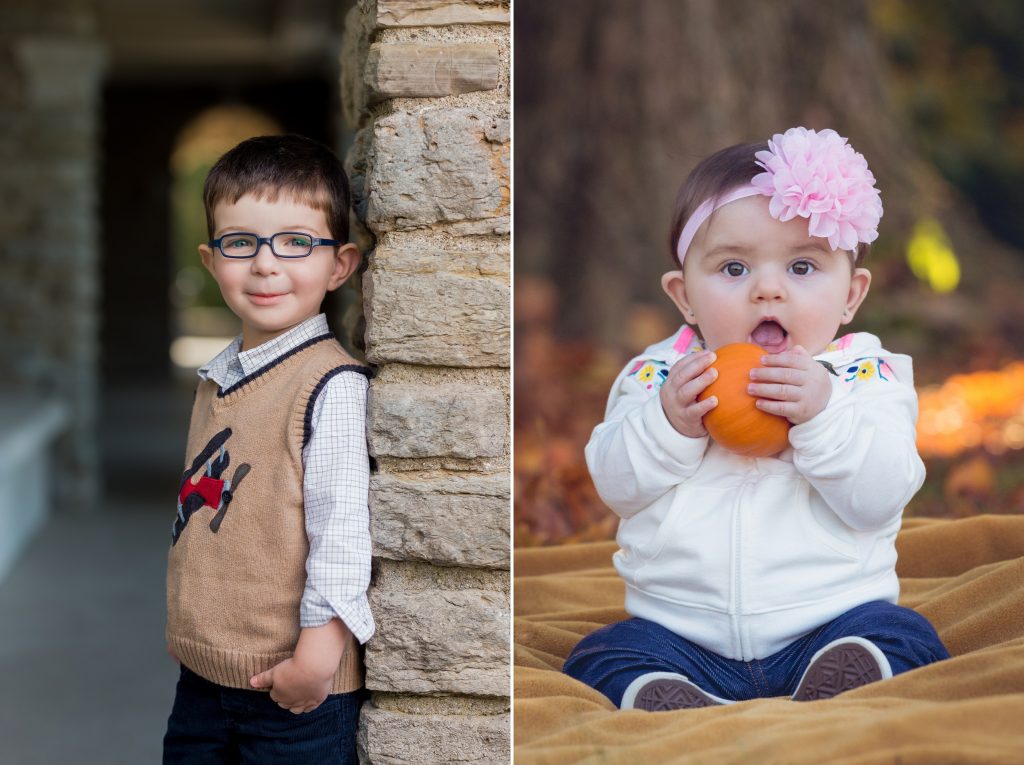 MOMS
SAY YES TO: Maxi dresses (love!), a-line dresses, fitted tops tucked into long skirts, skinny jeans, cardigans, fitted tunics, blazers, coats, scarves, ankle boots, and riding boots.
SAY NO TO: Sleeveless (unless you love your arms), strapless, low-cut shirts, oversized shirts, baggy shorts or pants, cheap and flimsy fabrics.
DADS
SAY YES TO: Shirts designed to be worn untucked, button-downs with sleeves rolled up to elbows, cardigans, blazers, sweaters layered over collared shirts, chino pants or shorts, dark wash jeans, leather shoes and boots.
SAY NO TO: White t-shirts, undershirts that show through, short-sleeved polos, oversized shirts, baggy shorts or pants, cargo shorts, and athletic shoes.
GIRLS
SAY YES TO: Everything on the list for Moms, and these optional accessories: headbands, bows, hats, Converse Chuck Taylors, and rain boots.
SAY NO TO: Visible diaper or underwear showing (try a pair of shorts or bloomers under the dresses), neon clothing, athletic shoes or character shoes (Disney/My Little Pony).
BOYS
SAY YES TO: Everything on the list for Dads, and these optional accessories: bowties, suspenders, caps, Converse Chuck Taylors and high-top sneakers.
SAY NO TO: Visible diaper or underwear showing, tank tops, neon clothing, athletic shoes or character shoes (Disney/Star Wars).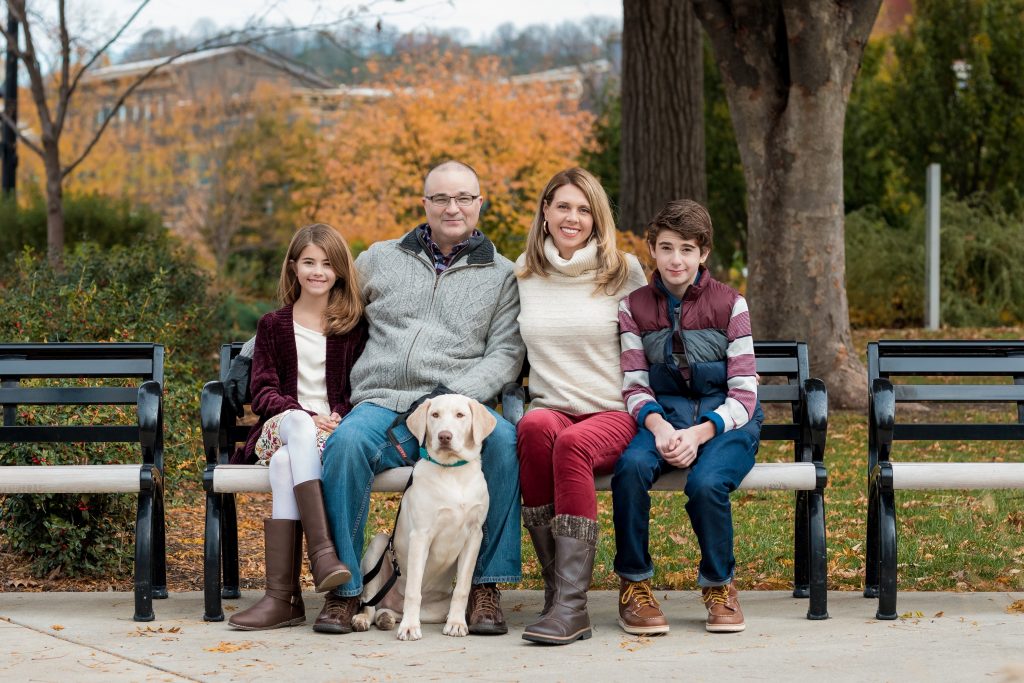 SAMPLE COLOR PALETTES
If you're overwhelmed by all of the advice we just unloaded onto you, here are some of our favorite color palettes that you can use as a starting point. Start simple, add a couple bright colors and fill in the rest with some neutrals to even out the look.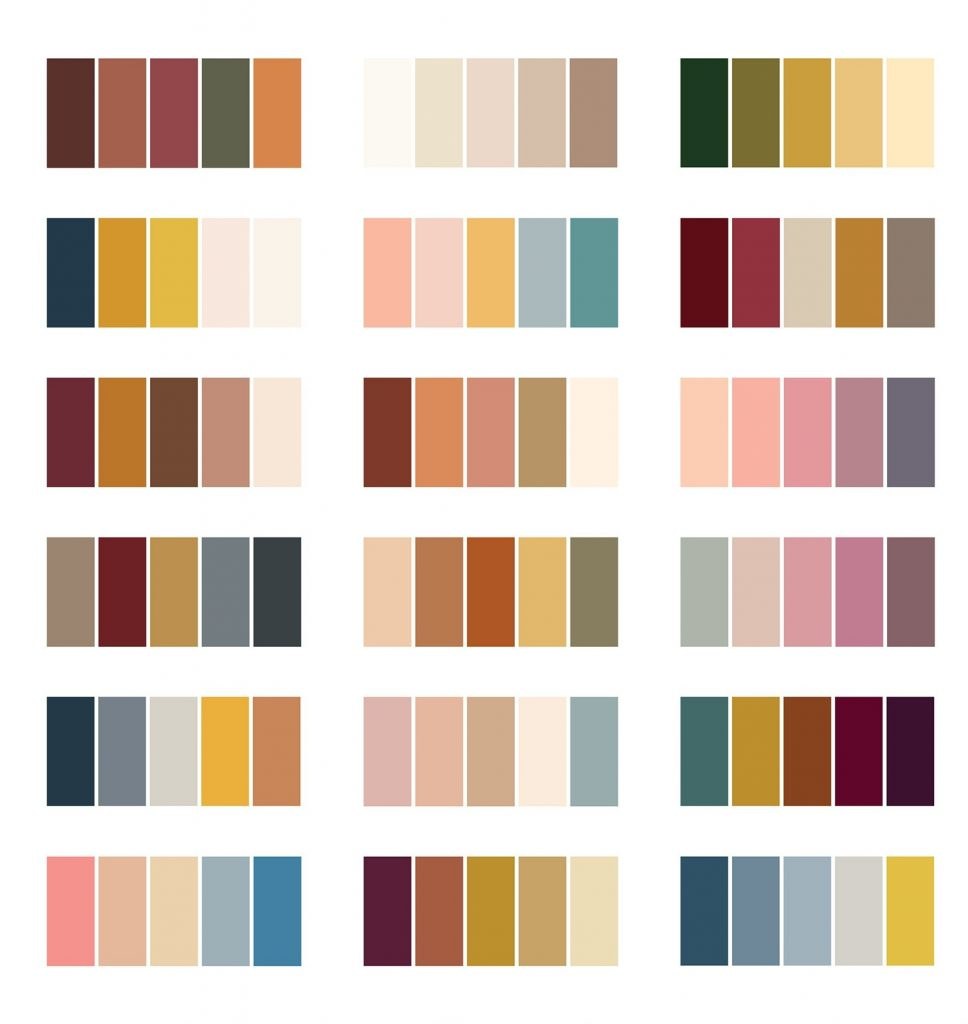 Of all of the colors you can choose for your family session, these have to be hands down our all-time favorites! These all photograph beautifully: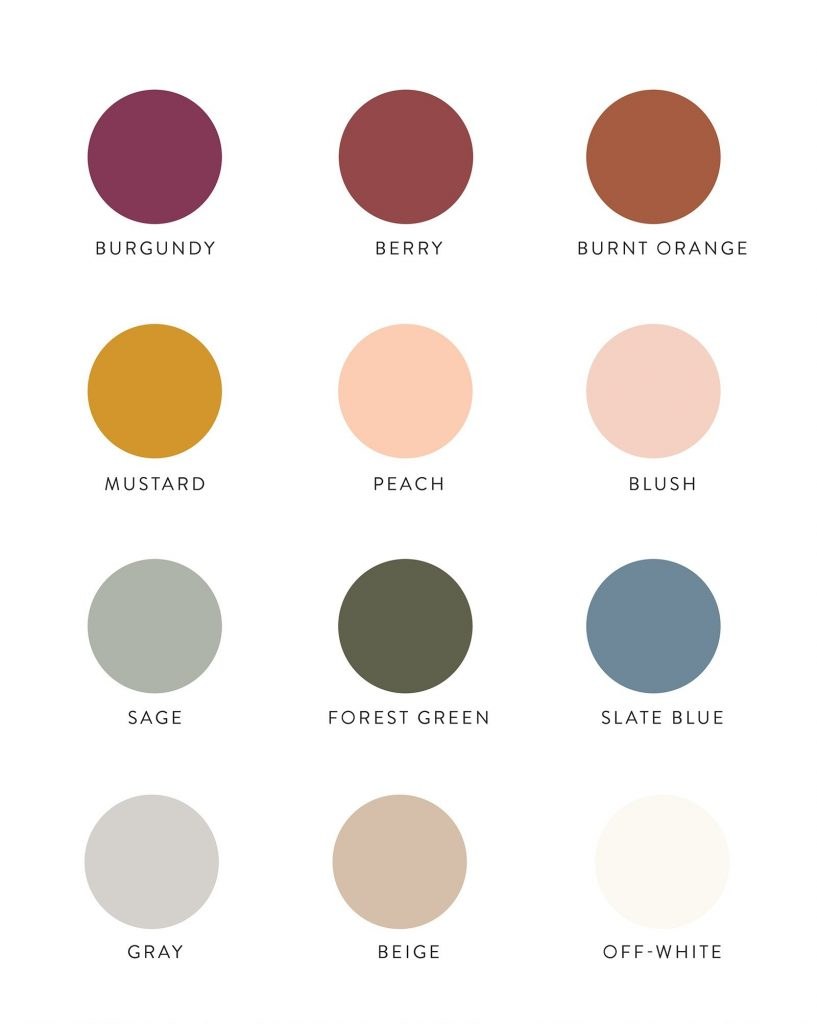 If you're stuck or need to bounce some ideas off someone, ask us for help!
Many stores offer free styling assistance (Target, J. Crew, and Nordstrom are a few great options for the whole family). We also love helping our families choose their outfits. Just text or email us photos of different possibilities and we can work together to make sure you and your crew get the most of our your time with us.
About Adam and Keli
Creative. Clean. Different. We are a husband and wife team of creative professionals in Cincinnati specializing in maternity, newborn, and family photography. We want to be here to document major moments in your life as you extend your family tree and lay down your roots. We would love to invite you out to our Northern Kentucky studio to meet with us while showcasing our albums, canvases and other print products. We can also provide more information on our collections and introduce you to our team! We would love to help, connect with us now.