Have you found yourself smiling more lately? After a long winter the change of seasons seems to bring such joy! The lighter colors come out. Our toes start to wiggle free. Everything feels fun again. Perhaps that's why so many people choose to have family portraits this time of year? Nature's artwork is on full display with the spring bloom. Plus, the warmer weather makes it a super pleasant time to capture your growing kiddos on camera. Looking for family photo outfit ideas? You've come to the right place!
Choosing what to wear for family portraits is a bit more complex than pulling a few favorites from the depths of your closet. Why? Things that look great in person, don't always translate on camera. And let's be real here… professional photos? They're an investment! You don't want to leave your outfit to chance.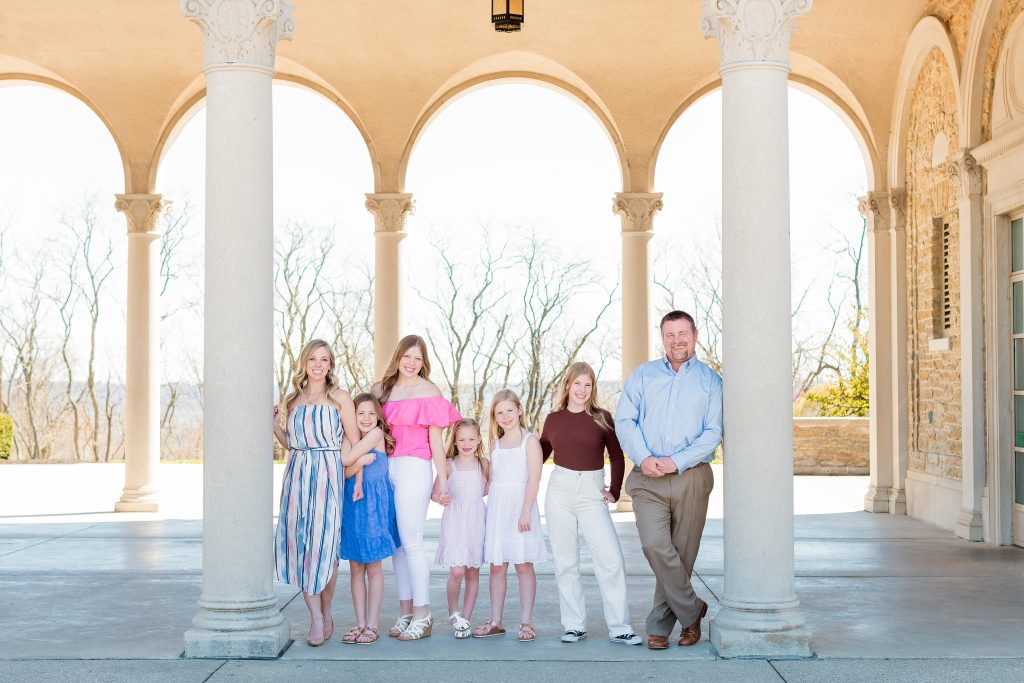 The goal is to find a style that's authentic to your family, but feels special at the same time. Your outfits should be cohesive not "matchy-matchy." If your head is spinning, don't worry. Let's break the process down step-by-step and dive in!
Here is a quick step-by-step guide to our top tips and best advice as you choose your outfits!
1. CHOOSE THE LOCATION
Before you even consider what outfits you want to wear, talk to your photographer about the location options and what you most prefer. Will you have a casual park session or will you be dressed up downtown? Will you be frolicking through wildflower fields or hiking to an epic mountain location? Your location actually matters a lot as you choose your outfits. Consider the vibe you are going for first as you select your outfits and then work with your photographer to choose a suitable location.
2. START WITH MOM'S OUTIFT
It can be hard to know where to begin, but think of it as building blocks. Start with one outfit and then you can build upon that. Our recommendation is to start with mom (or daughter), since women's clothing tends to have more colors and prints. And let's be honest, moms are typically pulling the outfits together anyways.
My best advice is for you to wear a dress in your favorite color. Not only are dresses flattering, but you will feel good in it. If you hate dresses, think about a skirt/top combo, but choose something that is slightly dresser than your everyday look. Opt for high quality fabrics (not t-shirt material) because they hang better.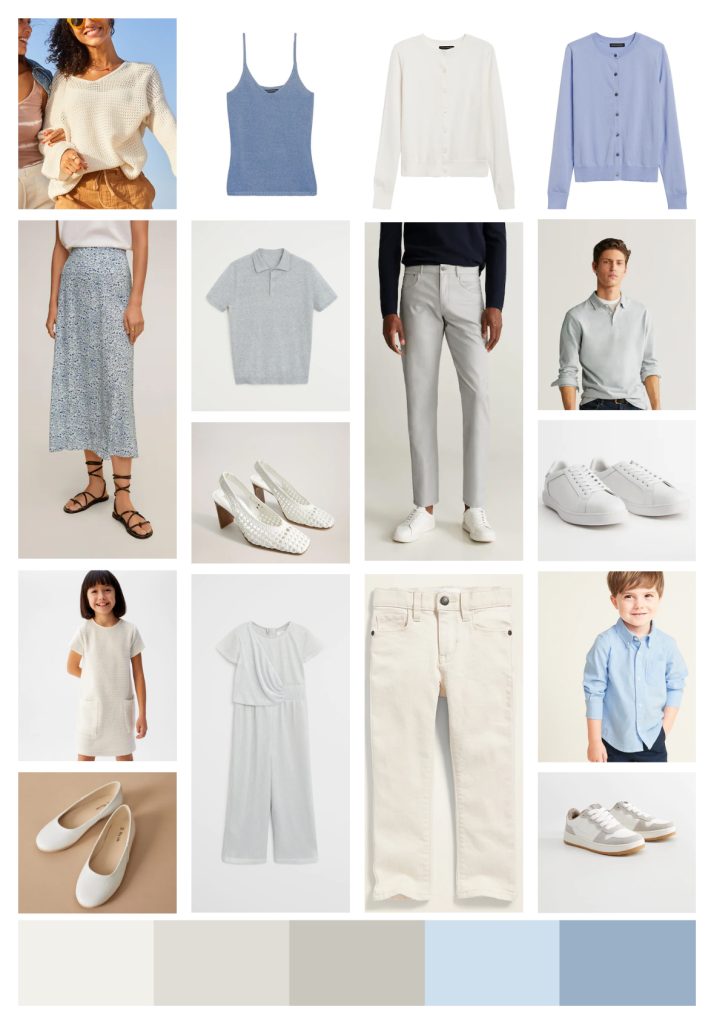 3. CHOOSE A COLOR PALETTE
After you've chosen mom's outfit, think about 2-3 coordinating colors, some neutral and one of which pops and brings life to the outfits. Also, the color palette you choose will affect your appearance and the overall look of your photo. Warmer colors like peach, cream, brown, will give your photos a soft glowing look, while bold and vivid colors will produce a brighter and sharper appearance.
4. THINK MUTED COLORS
Avoid overly saturated and bold colors, as they distract in the photo. Look for muted versions of the same color. For example, if you have a bright hot pink shirt, try a muted dusty rose instead.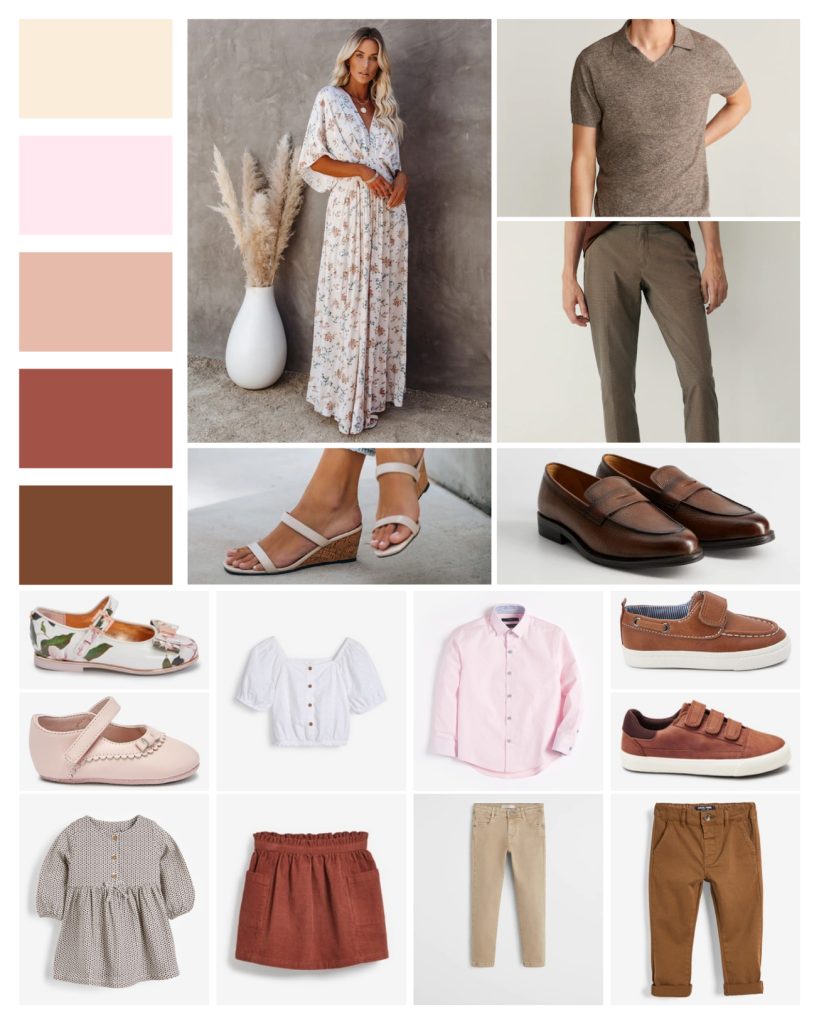 5. COORDINATE DON'T MATCH
Gone are the days when everyone wears matching white polos and khakis for family photos on the beach. Choose colors that complement each other but are not overly matchy-matchy. For example, avoid wearing the same color top as your spouse or putting your girls in the same matching dresses.
After mom's outfit is chosen, begin to find 2-3 coordinating colors that complement.
6. ADD VARIETY WITH SUBTLE PATTERNS
They say that variety is the spice of life right? To add depth and interest to your photos, create dimension by having primarily solids with a few coordinating subtle patterns and textures. Patterns are great in small doses and add a lot of your photo. Avoid bold, large prints that can distract from the photo though. You want your family photos to be about you and not merely your outfits.
Layers are another way to add variety with cardigans, shawls, scarves, etc.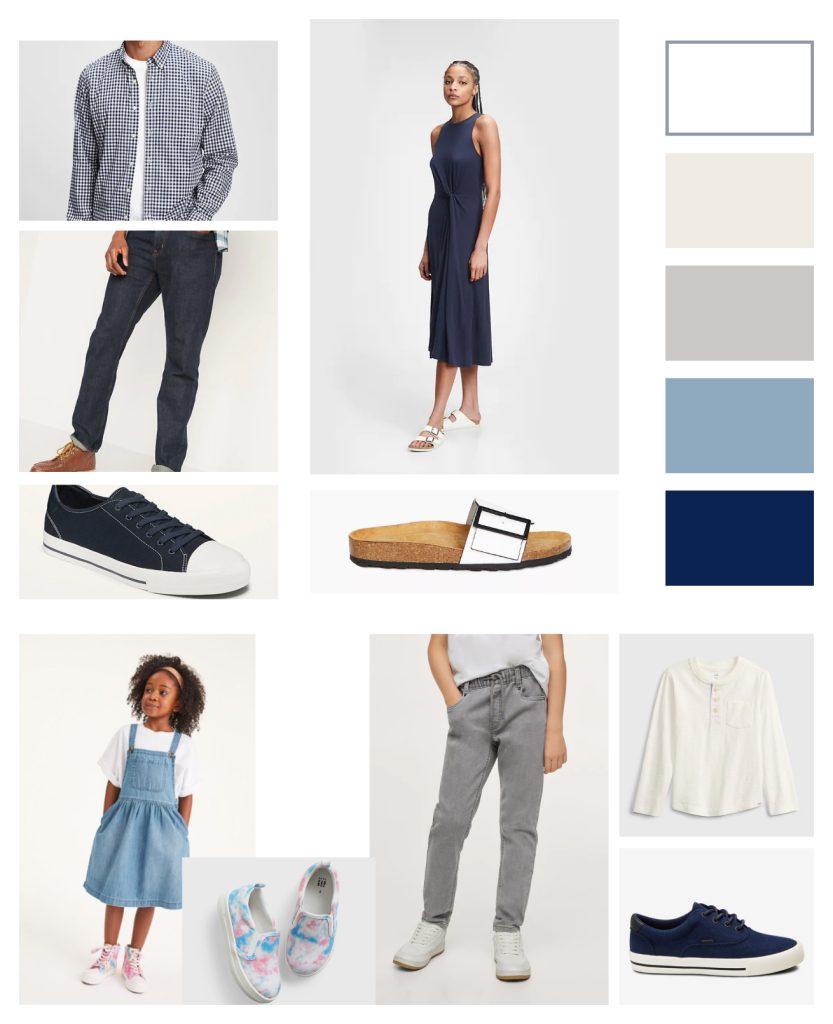 7. FITTED CLOTHING IS YOUR FRIEND
While flowy shirts and dresses are currently in style, they can hide your shape and be less flattering in photos. Find clothes that are neither overly baggy nor too tight, and think about balance between your upper and lower half. If you have a flowing skirt, chose a fitted top, and with a loose top, choose skinny jeans. It's all about balance, folks.
8. DRESS FOR THE WEATHER
You might have the perfect outfit on, but if you're freezing or sweating to death, a family photo session can quickly unravel. Layering is the perfect solution for those chilly evenings or sweltering August days! Remember, little ones get cold more quickly than adults when temperatures are low, so pack a cardigan or sweater for them. Cold kiddos = sad photos… keep those kids warm!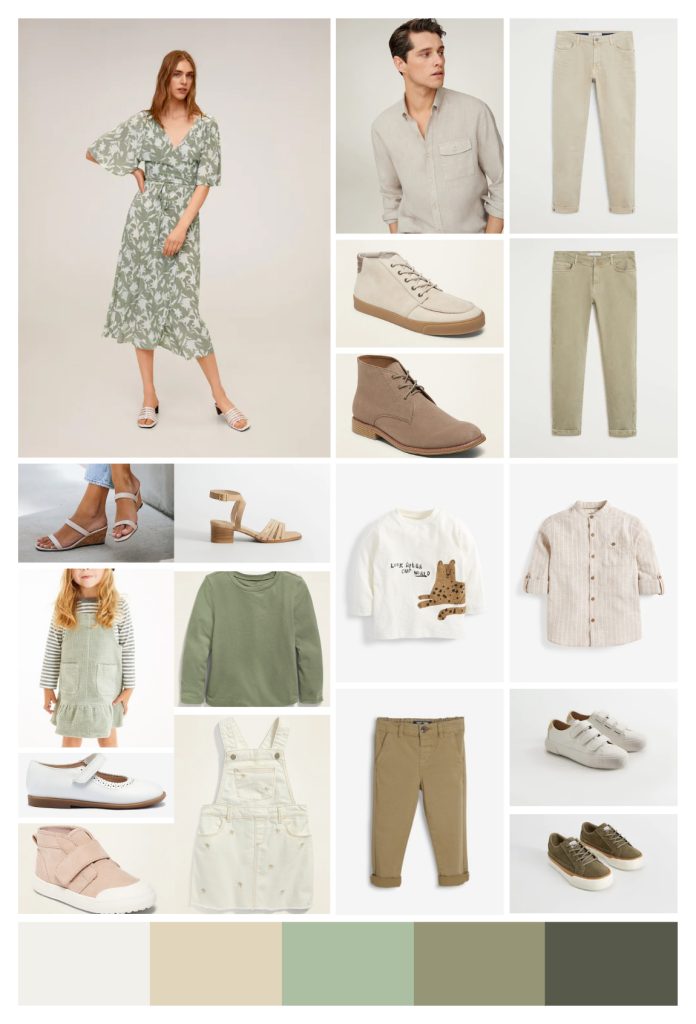 9. JUST BE YOURSELF
Don't dress like someone else you saw on Pinterest just because you found an amazing outfit idea. You want these photos to represent the real you and your family and not be something that you aren't. This might mean you wear shorts or torn up jeans or a boho vintage thrift store dress. Just be you!
10. COORDINATE WITH YOUR INTERIOR STYLE
How you decorate your home says a lot about you and your style. Consider coordinating your outfits to your home décor, as you will likely display your photos on your walls. For example, if your house is decorated in white muted tones, don't wear bright and bold outfits.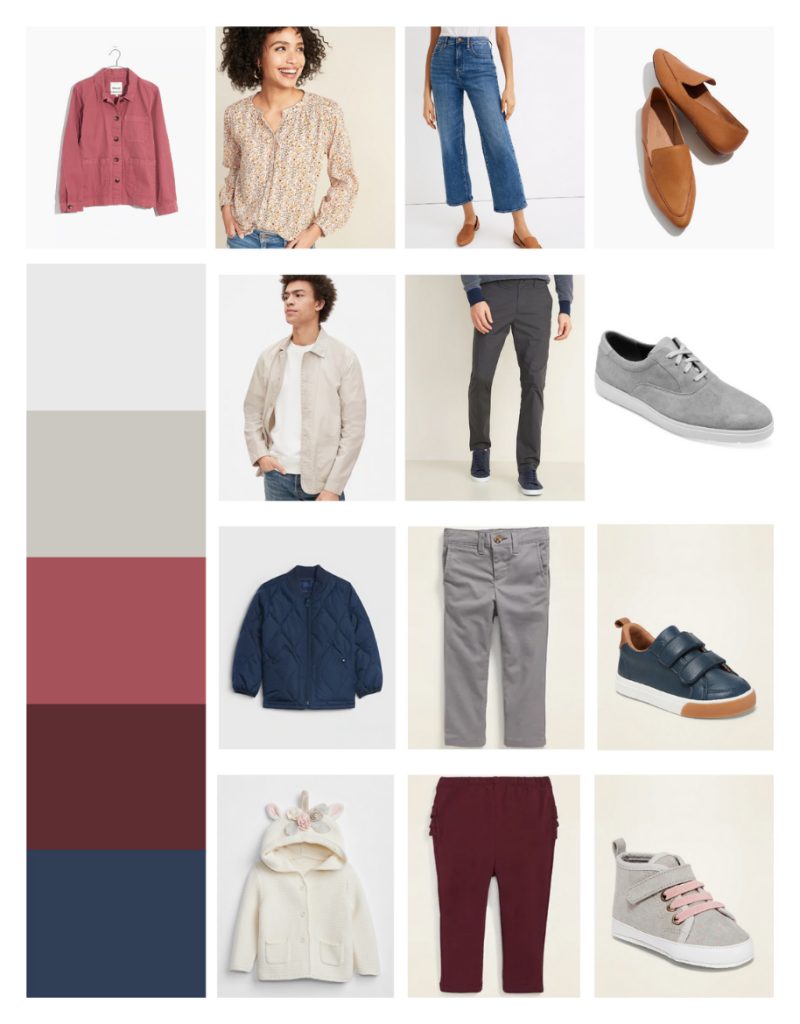 11. OPT FOR CLASSIC OVER TRENDY
Super trendy clothes are so fun because they look amazing now, but think about classic styles and outfits that will not make you cringe in 15 years.
12. INCLUDE YOUR KIDS
Involve your children in planning and choosing outfits. They will be much more excited about family photos if they like what they're wearing. This doesn't mean that you should let your daughter wear her favorite princess dress. Instead, incorporate their favorite color. Please don't make them wear something they hate. You want your kiddos happy for your session!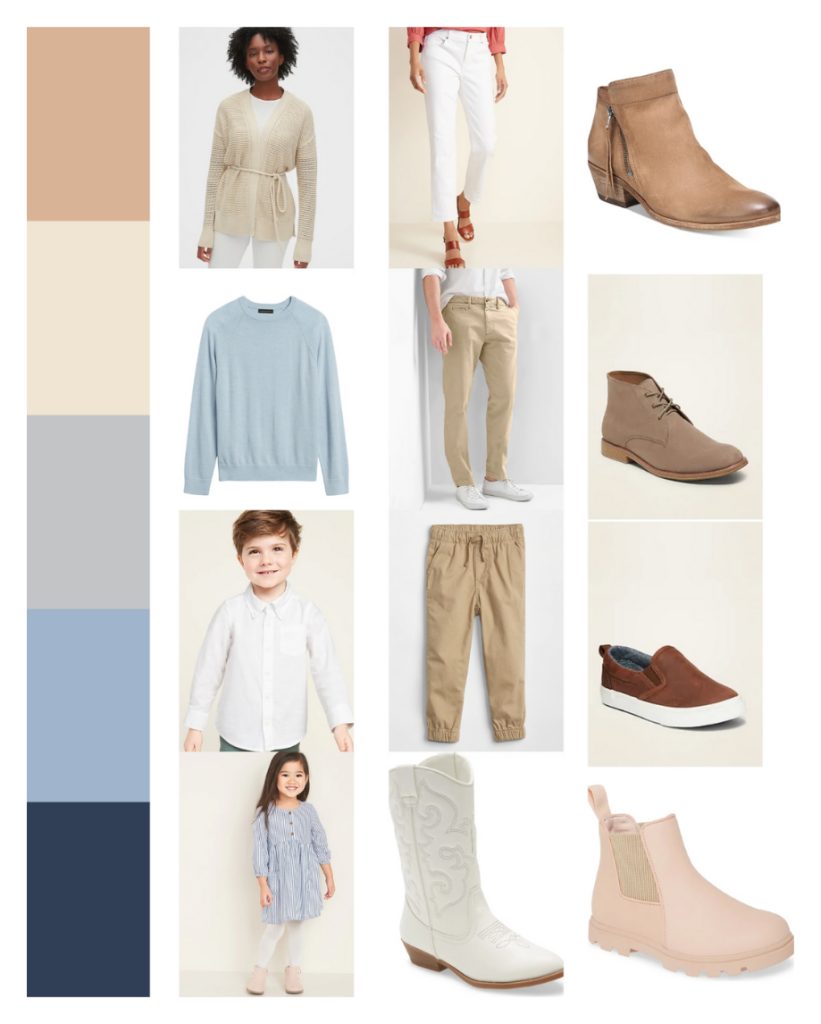 13. ONLY ONE OUTFIT NEEDED
Don't overly complicate family photos by bringing multiple outfits for everyone. Kids usually hate changing clothes and can end up cranky afterwards, not to mention it takes time away from your session. If you have a drooling baby, put a bib on them until you arrive at the session, or alternatively, change them into their outfit right when you arrive to ensure clean clothes.
14. REMEMBER THE SHOES
Shoes have the power to complete an outfit or completely destroy it! Think about your session location. If you are in a field, for instance, you won't be able to walk in those stilettos. Avoid bright white shoes, all athletic sneakers, and kids' shoes with cartoon characters and sparkles. If you just can't find shoes you love, consider having the family go barefoot for the session (just bring shoes to walk around at the location!).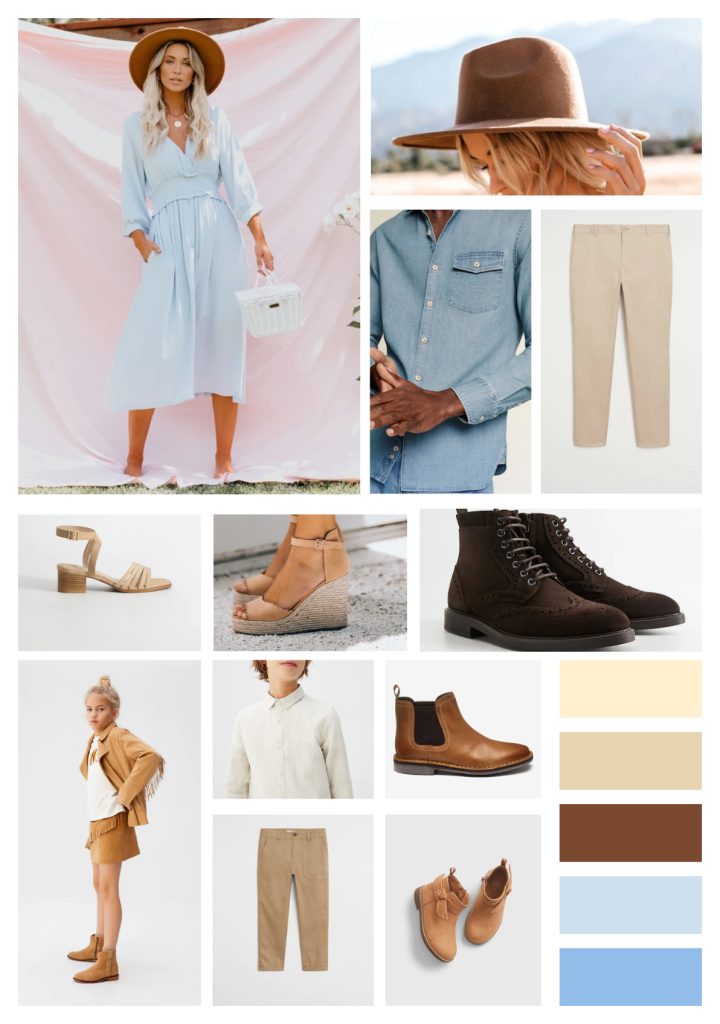 15. DON'T WAIT TO TRY ON YOUR CLOTHES UNTIL THE DAY BEFORE
Try on your clothes well in advance so you can switch it up if something isn't working. Look at your outfit from different angles and move around to make sure it works for lifestyle photos. There's nothing worse than a gorgeous v-neck dress that keeps gaping wide-open to show your bra as you cuddle and tickle your kiddos.
OVERALL TIPS
Comfort: Most importantly, you want to feel comfortable in what you wear. You don't want an outfit that keeps shifting out of place or falling down. Choose clothing that allows you to play with your kids, move freely and feels good on you. For guys this means that shirts that look good untucked are usually better since you will be playing and moving around with your kids and you don't want to have to keep tucking in your shirt.
Accessorize: Don't forget earrings, bracelets, hats, or other accessories that help complete your outfit! Ladies, please avoid necklaces as they have a hard time staying in place and can get tangled up in those cuddle and tickle moments with your kids.
Texture: Texture is a striking feature and adds great dimension to your photos and helps them stand out. Examples of texture include chambray, faux fur, chunky knits, lace, tweed, wool, etc.
Makeup: Apply your makeup in natural light so that you know how it will look for outdoor photos. Apply just a little bit more than you usually would and make sure to blend foundation well with your neck. Stay away from nude lipsticks as they wash you out, but do make sure to wear lip gloss (chapstick for everyone in the family so they don't have the dry lip look). If you're comfortable with it, help your eyes pop with natural length fake eyelashes.
JUST SAY NO
Oversized Clothing: Steer clear of cargo shorts, baggy jeans, and oversized clothing.
Thin Stripes or Plaids: Thin stripes and tight plaids distort in printed photos and appear zig-zaggy and thus should be avoided.
Formal Wear: Avoid outfits that are too formal for your setting. If you are in a natural area, a tuxedo, formal dress, tie/bowtie, might feel out of place.
Men's Shorts: Dads, leave the shorts at home and opt for pants so your hairy legs don't distract from the photo.
Bright White: White has the tendency to wash out complexions. Choose ivory and creams instead.
Bold and Dark Colors: Dark colors (e.g., navy blues, black, dark browns and grays) should be avoided, since they appear black in photos. Also, dark colors can wash out your complexion and create an overly dark feel in the photo. Overly saturated colors can distract from the photo, so look instead for muted versions. For example, if you have a bright yellow dress, think about a mustard or gold dress instead.
Neon Colors: Neon colors can reflect onto your face, causing skin tone problems in your photos. That neon green shirt will reflect upwards on your face and cause you to look green!
Logos: Logos or text on clothing is distracting. Avoid shirts that have logos (even just a simple Nike check mark or Polo horse is distracting).
Strapless/Sleeveless Tops: Unless you absolutely love your arms, avoid strapless or sleeveless tops. Sleeves are typically more flattering for everyone!
Undershirts: Guys, it's best to avoid wearing white undershirts that hang out of the top of your shirt or sleeves.
Athletic Polo Shirts: You might love your Under Armour quick-dry polo but it's not really the look you want to go for in your family session. Avoid athletic polos or quick-dry shirts and opt for more timeless fabrics.
Athletic Shoes: White tennis shoes, athletic shoes, and character shoes (think Disney princess shoes) should all be avoided. Leather shoes, casual sneakers (think Converse), sandals, slide-on canvas shoes, and wedges are all great options.
Low-Cut and Overly Tight Shirts: Low-cut shirts can shift during the session and leave you a little more revealed than you intended. Clothing that is overly tight and clings to you is uncomfortable and can leave bulges and bumps in places you don't want.
Baby Outfits with Diapers Peeking Out: An adorably cute moment with your baby can be ruined by the green-lined diaper that is hanging out of a little romper or dress. Avoid baby clothing that doesn't completely cover those little Pampers.
Transitional Lenses: If you typically wear glasses, wear them for your session. But if you have polarized or transitional lenses, consider taking them off. Dark glasses will cover your eyes in the photos.
Many stores offer free styling assistance (Target, J. Crew, and Nordstrom are a few great options for the whole family). We also love helping our families choose their outfits. Just text or email us photos of different possibilities and we can work together to make sure you and your crew get the most of our your time with us.
About Adam and Keli
Creative. Clean. Different. We are a husband and wife team of creative professionals in Cincinnati specializing in maternity, newborn, and family photography. We want to be here to document major moments in your life as you extend your family tree and lay down your roots. We would love to invite you out to our Northern Kentucky studio to meet with us while showcasing our albums, canvases and other print products. We can also provide more information on our collections and introduce you to our team! We would love to help, connect with us now.