When you are planning your wedding, there are a hundred different decisions to make – seriously, it can overwhelming! Some of those decisions can feel small, but they can have a significant impact on your wedding day timeline. One decision in particular is whether you want to see your future spouse before the ceremony and share in a First Look, or if you want to go the traditional route and wait to see each other for the first time while walking down the aisle at the ceremony.
No matter what you decide, the most important thing to remember is:
NO MATTER WHAT, WHETHER YOU CHOOSE TO HAVE A FIRST LOOK OR WAIT TO SEE ONE ANOTHER AT THE CEREMONY, IT WILL BE A VERY SPECIAL MOMENT BETWEEN YOU BOTH WHEN YOU SEE EACH OTHER FOR THE FIRST TIME ON YOUR WEDDING DAY.
WHAT IS THE FIRST LOOK?
The First Look is a modern tradition where we have a private portrait session where the Bride and Groom see each other for the first time before the ceremony. During this intimate moment, we capture all of authentic emotion of seeing each other for the first time, the elegant wedding dress, the dapper new tuxedo, and that glimmer in your soon-to-be spouse's eyes. After documenting dozens of couples during their own First Look, we have selected our top reasons on why you should consider this session into your wedding day and leave you with some testimonials from our past couples.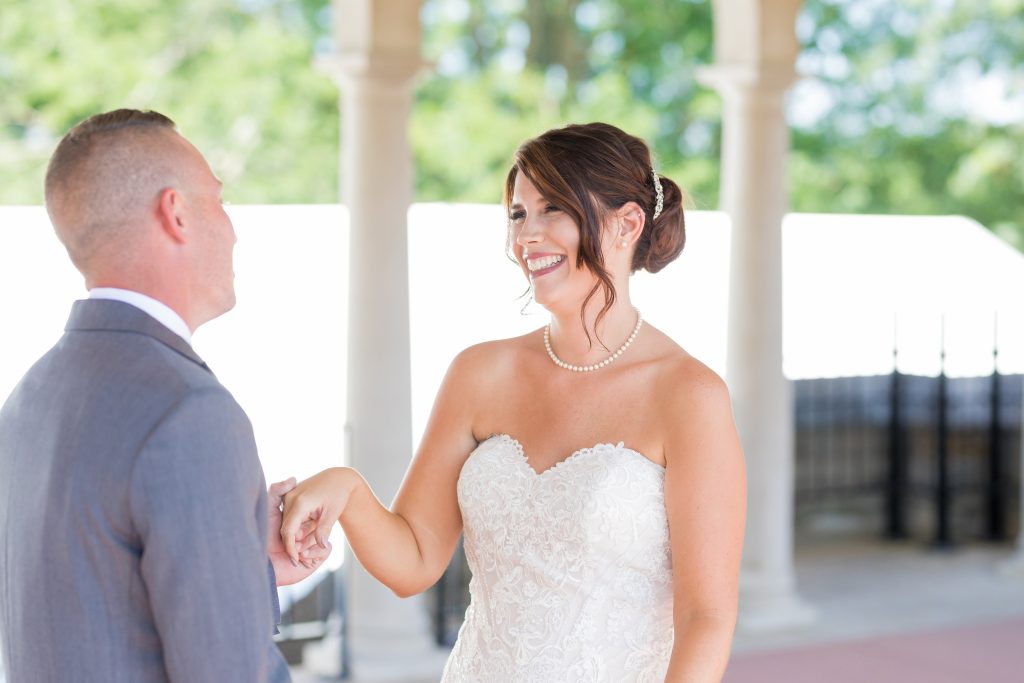 1. CALM THOSE WEDDING NERVES
When you have a First Look before the ceremony, it's one of the very few times you get to be alone with your future spouse on your wedding day. Having the privacy of that moment to be between just you both (and your photographers discreetly), allows the emotion to really sink in. And you don't have to wait through the entire ceremony before you can hug, talk, and kiss! You can share and experience it together right then and there. Most importantly, this quiet moment between you both will allow you to get your nerves and anxiety out so that you both feel and look relaxed and at ease at your ceremony, to truly soak all of it in!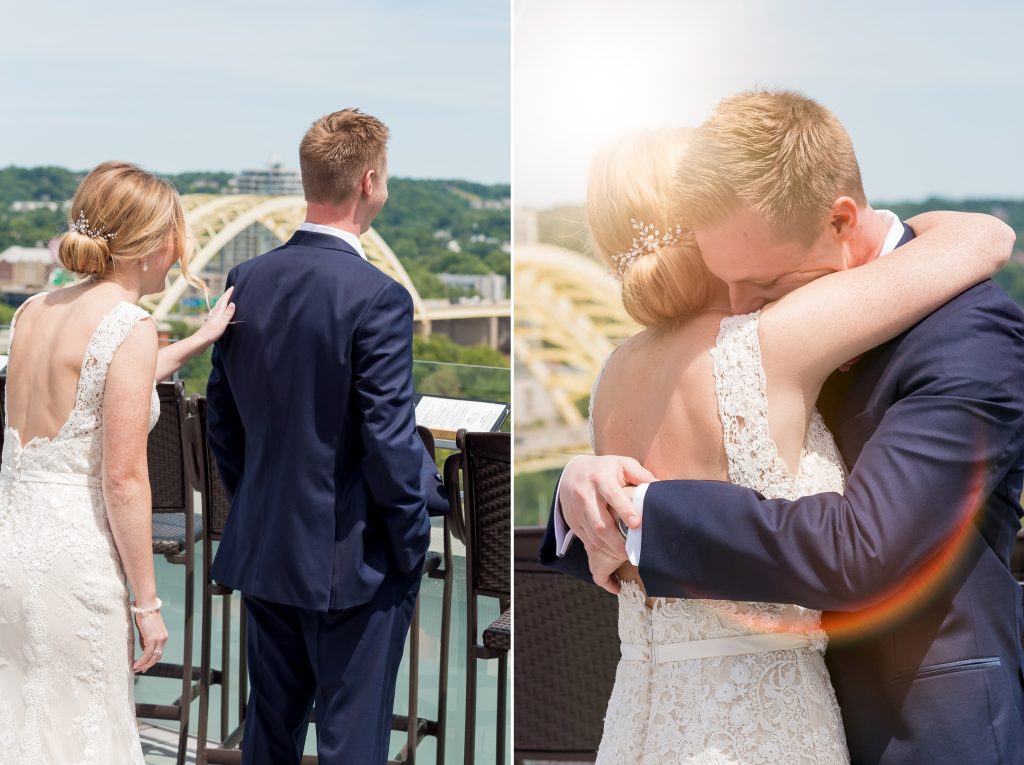 2. A QUIET MOMENT TOGETHER
It is your wedding, but ironically, a First Look is one of the very few moments during the wedding day where you will actually get to enjoy each other's company, much less a quiet moment together. The remainder of your day is filled with family and friends that can't help but share their love and happiness with you and taking you in separate directions during the reception at times! This is also the perfect moment to get your formal couples portrait session finished before moving onto wedding party group photos.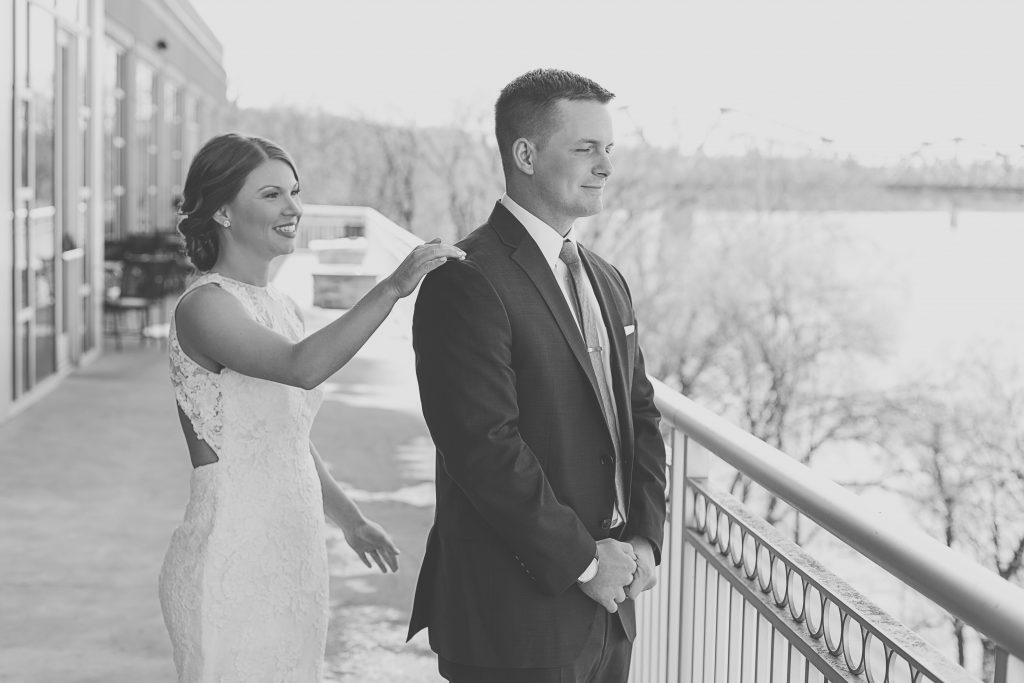 3. LOOK YOUR ABSOLUTE BEST
One of the best things about getting couples portraits completed toward the beginning of the wedding day: you both look incredible! Of course, both of you will look amazing all day (even with the sunny Cincinnati days in July), but a First Look is done prior to the ceremony and reception – when your hair is perfect, you haven't cried off that makeup, and neither of you has gotten the chance to dirty your wedding attire (yeah, talking to you, Grooms!).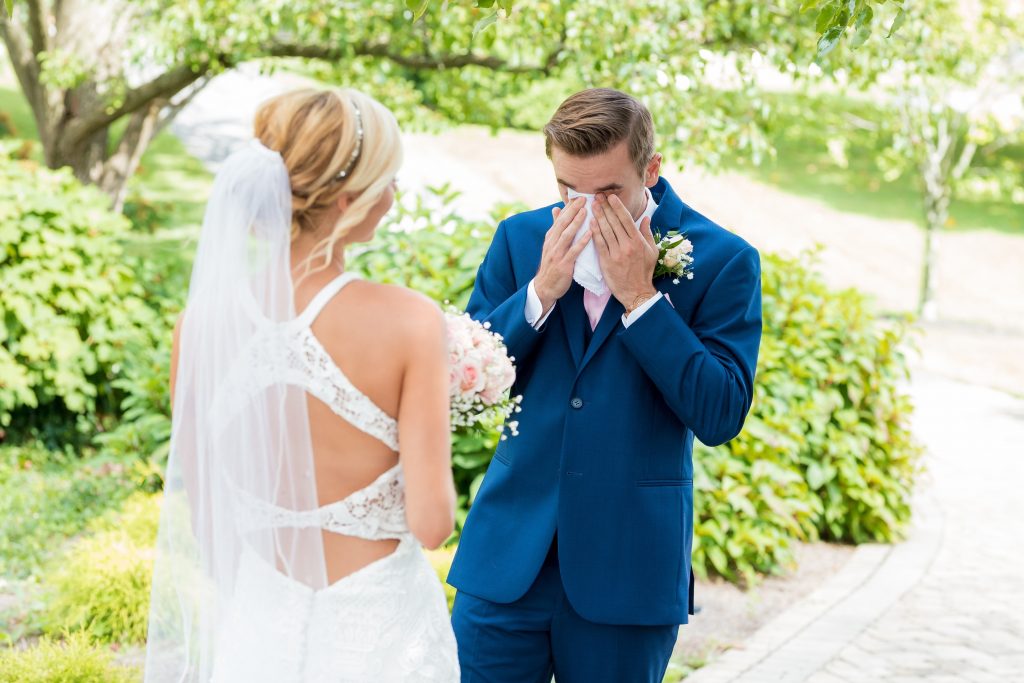 4. MORE PHOTOS
Planning for photos before the ceremony with a First Look and during your reception, ideally during sunset, allows for more amazing portrait opportunities. While we spend months to help you with your wedding timeline, it is also worth mentioning that weddings are unpredictable and there are often delays (think ceremony and family formals). With everything that you have planned for your perfect day, it would be a shame to reminisce about your wedding day years later only to wish that you had more portrait time scheduled! It is not ideal to have rush your portrait session after the ceremony for reasons such as the sun setting, the ceremony running longer than planned, or adding time for traveling from the ceremony to the reception.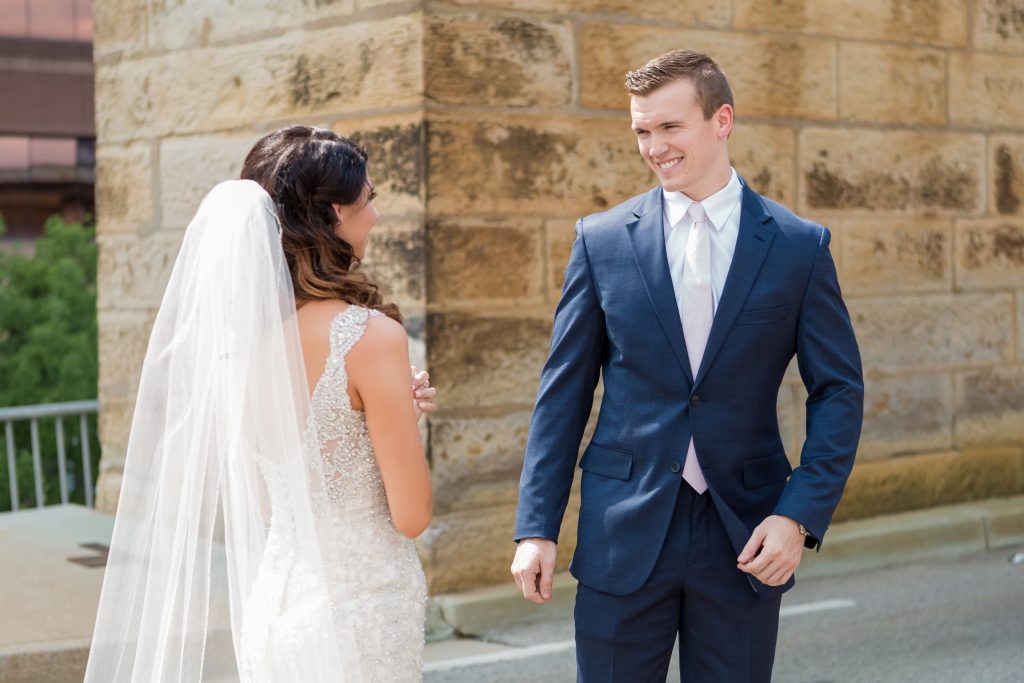 5. MORE TIME WITH YOUR GUESTS
A First Look will save time later when the transition from the ceremony to the the reception takes place. When we are able to spend pre-ceremony time taking Bride and Groom portraits, wedding party group photos, and family portraits, that means you get to go to your own cocktail hour! While your guests are there, you'll get to spend time with them celebrating rather than being out taking all of these photos. In addition, getting a head start on mingling during the cocktail hour takes some of the pressure off to make it around to every single table during your reception.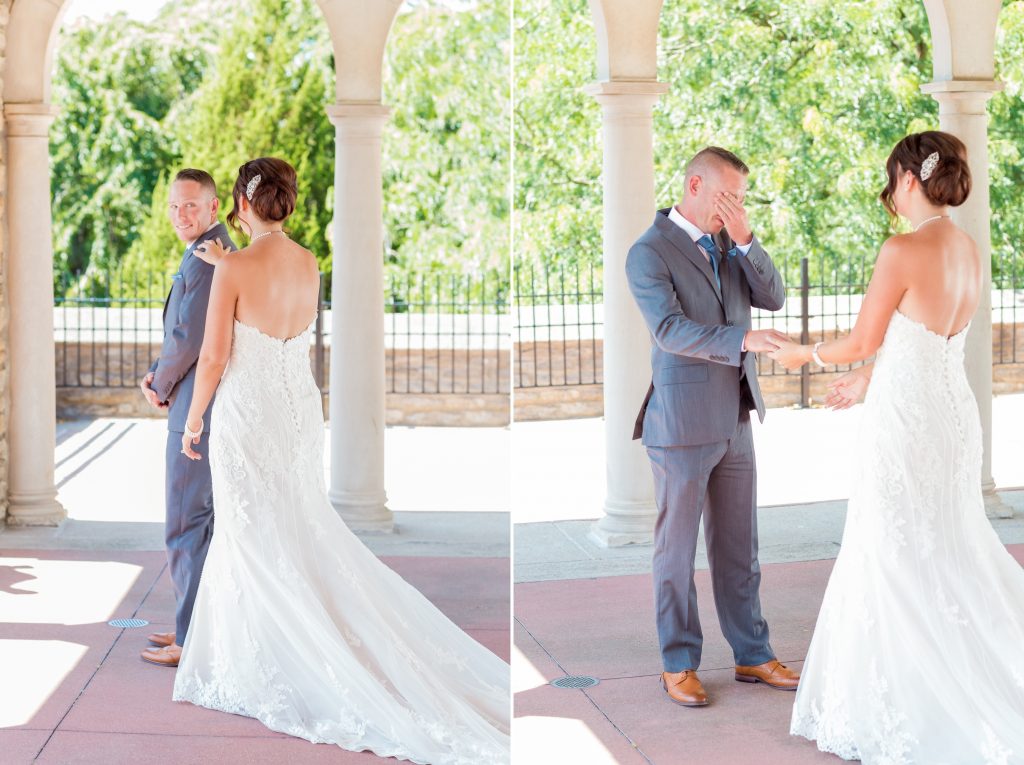 6. EXTEND YOUR WEDDING DAY
You will hear this a hundred times by everyone, but it's true – your wedding day will fly by! With so much joy and excitement filling the day, it goes by so quickly! One minute you're hanging out with your bridesmaids laughing while getting hair and makeup done, and the next you're running through your sparkler send off at the reception, and the day is over! When you have a First Look, you get to have a more relaxed timeline and extend your wedding day to be just a little bit longer with your future spouse and full wedding party. Rather than cramming all your portraits in after the ceremony, your day will start a little earlier to take photos before the ceremony without being rushed and pulled in all kinds of directions. And from the moment of your First Look, you both will get to be present, together for the remainder of the day and it will feel like you get a little more time on your wedding day!
There will be plenty of moments during the wedding day to capture – between getting ready, the ceremony and the reception. Plenty of moments to catch a wistful tear, lingering glances, and a well-timed laugh. There will be only one First Look, make sure it doesn't slip by.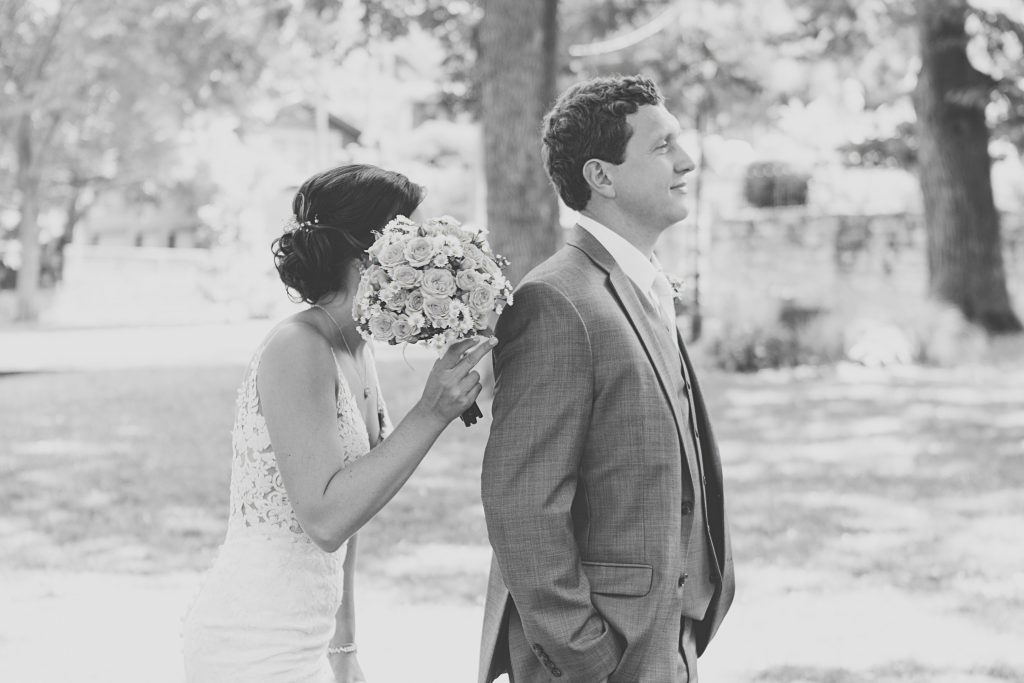 FIRST LOOK TESTIMONIALS
Rather than just taking it from us, some of our couples have found it helpful to hear from past our Brides and Grooms about their experience with the First Look! We asked some of our sweet couples to share a little bit about their First Look experience, why they decided to do one, what they loved about it, and if they would recommend it to other couples! Here's what they have to say:

From Megan & Travis:
"My husband, Travis, and I had somewhat different ideas as to the schedule of our wedding day, particularly how the photo portion should unravel. I wanted to have a First Look as well as ample time for the wedding party to enjoy taking the photos and mingling. However, he did not want a First Look and wanted to shorten the time of the group photos as our wedding was in the middle of July with forecast in the high 80s. About a week before the wedding we came to an agreement after several conversations. We compromised with shortening the time allotted for group photos as we both did not want our party to suffer from the heat. In doing so, he agreed to my request to have a First Look. It was a hard sell for me as my husband wanted the first time he saw me to be walking down the aisle. I convinced him the First Look would be more intimate. On our wedding day, he agreed that I was right! The moment I touched his shoulder and he turned around he began to cry. He told me 'Wow! You look more beautiful than I imagined.' I know this response and moment would not have come to fruition later in the day have we not had our First Look."
From Colleen & Casey:
"Casey and I decided to do a First Look for a variety of reasons. Our biggest reason for wanting to do one was because we wanted all of our pictures taken before our 6pm ceremony so that we would be able to join all of our guests immediately at the reception. The First Look was so perfect. It was a very intimate moment between us. It was kind of like everything else faded away and we were the only two people around. I definitely think the First Look helped with the nervousness each of us felt. It helped us enjoy the rest of our time before the ceremony with our wedding party and with each other. I would recommend doing a First Look because it's a really special moment!"
From Kristi & Steve:
"We decided to do a First Look for many reasons, and we are so glad that we did! At the very least, we had the majority of our bridal portraits and group shots done before the actual ceremony so that we could enjoy cocktail hour with our family and guests. We also found that doing a First Look made walking down the aisle in front of all of our family and friends much less stressful; our ceremony was very easy to enjoy when we were present in the moment, and not overcome with emotion. Finally, the main reason that we chose to do a First Look was to have an intimate moment together, to take it all in before the craziness of the day, and for that we were so thankful. It was truly one of very few moments that we spent alone that day, and there is nothing like it in the world. Looking back through memories and our photographs, I still feel the same butterflies as when his eyes met mine for the first time that day, and I will never forget how amazing that was."
About Adam and Keli
Creative. Clean. Different. We are a husband and wife team of creative professionals in Cincinnati, Ohio with a passion for weddings and storytelling. Founded in 2015, our portrait studio has been recognized as one of the best wedding photographers in the Greater Cincinnati Metropolitan Area by leading publications and websites. We would love to invite you out to our Northern Kentucky studio to meet with us while showcasing our albums, canvases and other print products. We can also provide more information on our Wedding Collections and introduce you to our team! We would love to help, connect with us now.