To First Look or not to First Look. That is the question.
The "First Look" is a term that has developed in the modern age of wedding photography to describe that moment when a Bride and Groom see each other on their wedding day before their ceremony takes place. Whether to have a First Look or not is a decision that many couples continue to struggle with. Deciding on the First Look or waiting to see each other for the first time at the ceremony is such a personal decision for couples, and while we will never tell a couple what they should do, we do try to make sure that our couples are as prepared and educated with their options as possible. We usually start out the conversation with our couples by asking them if they have their hearts set on not seeing each other until the ceremony. If that describes you, let us share a little background on this tradition.
Here's a little history on this tradition; prior to the early 20th century, the Groom would wait to see his Bride on their wedding day until she walked down the aisle. This tradition originated during the time when arranged marriages were the norm, the intended couple were not allowed to see each other prior to the wedding – at all. The wedding symbolized a business transaction between two families, and the Bride's father would have been content for his daughter to marry into a rich family. The Bride's father also feared that if the Groom met his daughter before the wedding ceremony and did not find her attractive, he would call off the wedding, putting shame onto their family. And so, it became tradition that the Bride and Groom were only allowed to meet for the first time during their wedding ceremony so that the Groom could not have the opportunity to change his mind. Eek! Not the most romantic of beginnings!
Couples marry for love today (Yes!), yet, some couples still like to uphold this tradition. In about twenty-five percent of the weddings we photograph, the Bride and Groom choose to wait to see each other until the ceremony, however, more and more of our couples are choosing to spend more time together on their wedding day… which means doing a First Look. With the First Look, couples actually get to spend their wedding day together more. We really believe having a First Look is the best option for a number of reasons. Here are just a few: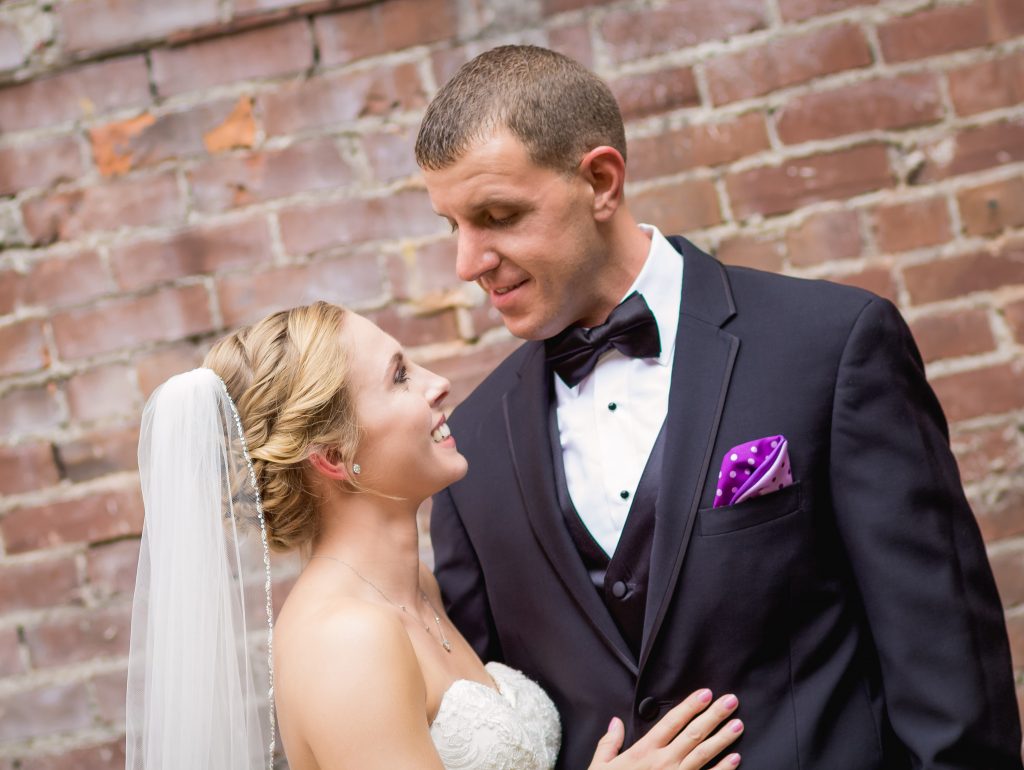 1. You have a real opportunity to truly connect with one another before the craziness of the day takes over.
If you don't see one another prior to the ceremony, you could easily spend a good majority of your wedding day without getting a chance to talk or have a moment alone with the most important person in your life. You see each other during the ceremony, then you are immediately swept away by the schedule of the evening and by the joy and love of your family and friends. If you have a First Look on your wedding day, you are able to steal a private moment with just the two of you; a chance to see one another for the first time while you are alone, and to connect in a more meaningful way away from the bustle of the day. You are able to spend time with one another much more candidly because you aren't being put on display in front of the whole world. We absolutely love this part of the wedding day – when couples first see each other – the excitement, the tears, and the joy that erupt. We are able to capture some amazing emotions as the couple sees each one another for the very first time, and in our experience – these quiet moments when it's just the two of you – are some of the best memories of the day!
2. Your stress and anxiety are diffused before the ceremony.
We have been witness to over 100 couples on their wedding day, and for the most part, every one of them in some way or another experience anxiety as the day starts to unfold. Months of planning have built up to this important day, and the couples who have a First Look are anxious, but as soon as they see their best friend, get a chance to hug, talk and really connect – any stress that they were experiencing completely disappears. From that moment on, they can be themselves completely, and they can experience their beautiful wedding day in all of it's elegance. This is something we have seen time and time again with our couples, and we want this comfort and joy for each one of our couples.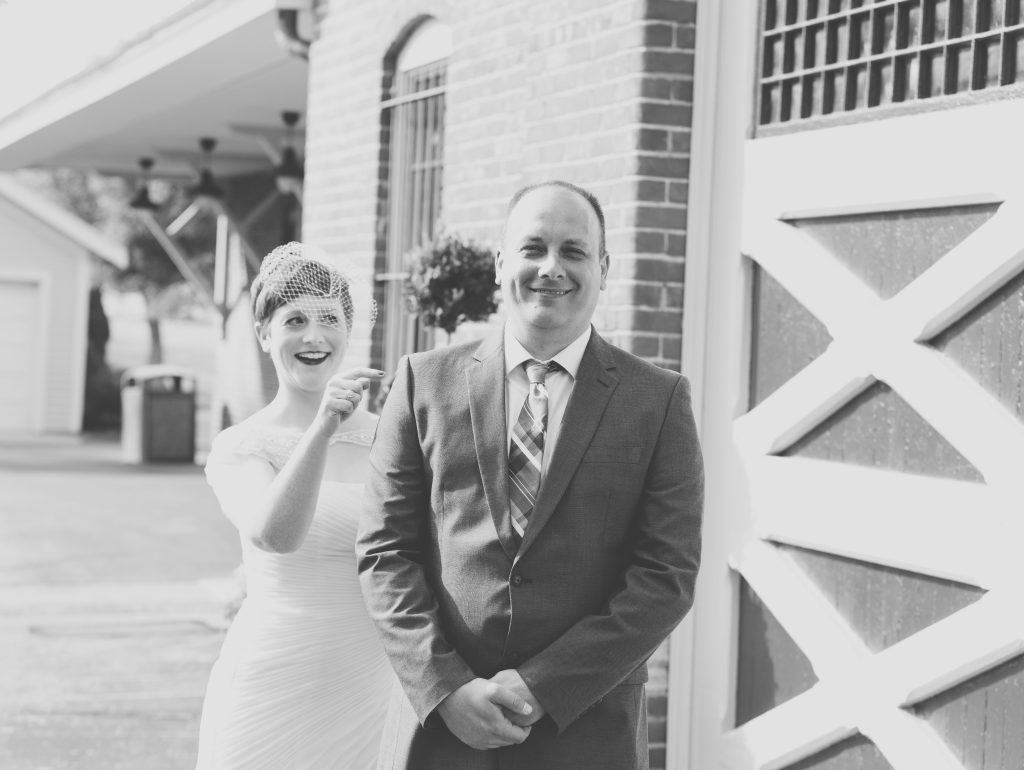 3. Portraits will be as quick and stress-free as possible.
If you decide on a First Look, we can get all of your formal portraits out of the way prior to the ceremony so that you have the freedom to do what you, your spouse, and all your guests really want to do after the ceremony – enjoy the cocktail hour and celebrate at the reception! Consider these two timeline options:
Portrait schedule if you see each other before your ceremony:
3 hours before ceremony: First Look / Bride and Groom portraits
2.5 hours before ceremony: Wedding party portraits
1.5 hour before ceremony: Family Formals
1/2 hour before ceremony: All formal portraits are complete as your guests begin to arrive, giving you time to go inside and freshen up.
Portrait schedule if you don't see each other before your ceremony:
1.5 hours before ceremony: Bride and bridal party portraits
1 hour before ceremony: Groom and groomsmen portraits
1/2 hour before ceremony: Temporarily finished with formal portraits as your guests begin to arrive, giving you time to go inside and freshen up.
Immediately after ceremony: Family Formals
30 min. after ceremony: Wedding party portraits
1 hour after ceremony: Bride and Groom portraits
1.5 hours after ceremony: Completely done with portraits
As you can see in the above sample timeline, formal portraits can be taken care of prior to the ceremony in 2-3 hours. If you choose not to see each other before the ceremony, portrait time can take up 1.5 hours of your evening – just when you want to celebrate and be with family and friends at the cocktail hour. In addition to the amount of time being extended before the cocktail hour, your stress level can also heightened when formal portraits are held off until after the ceremony. Gathering people before the ceremony is easily done through clear and concise communication prior to the wedding day. There are no additional guests present to work around or be a distraction. After the ceremony, all of your guests will just want to congratulate you and love on you… and make a run to the bar. This makes gathering family members for portraits so much more difficult. So many times during these family formals after the ceremony, no one can find Uncle Bob or Aunt Lucy. Time is wasted finding and gathering people, and your photographer has a challenging time getting everyone's attention to get these portraits because they're just wanting to get to the party. It's just more stressful on everyone. And take notice in the sample timeline – with a First Look, the Bride and Groom get to actually enjoy the cocktail hour with their guests!
4. You can plan your wedding near sunset.
So many of our couples want a sunset wedding, or at the least, outdoor portraits close to sunset. While we can master any lighting situation, some natural light is a necessity for high quality portraits. If you take care of all of the formal portraits prior to the ceremony, you have more flexibility to plan your wedding closer to sunset. There would be no need for natural light after the ceremony at that point since all formal portraits would have been completed. If you decide to wait to see each other, that's ok, but just know that you will have to plan your wedding earlier in the day so that there is at least 2 hours of daylight after the ceremony for your portraits.
These are some of the ways in which the decision of whether to have a First Look or not can greatly affect your wedding photography. Putting photography and everything else aside – we truly believe that the consideration for a First Look can also affect your stress level and general enjoyment of your perfect wedding day. When we meet with couples about weighing both options, we are really keeping their best interests in mind, as we want their wedding day to be everything that they have imagined!
If you are planning your wedding, we hope that we've shed a little light on the subject and helped you to decide whether or not a First Look is for you!
About Adam and Keli
Creative. Clean. Different. We are a husband and wife team of creative professionals in Cincinnati, Ohio with a passion for weddings and storytelling. Founded in 2015, our portrait studio has been recognized as one of the best wedding photographers in the Greater Cincinnati Metropolitan Area by leading publications and websites. We would love to invite you out to our Northern Kentucky studio to meet with us while showcasing our albums, canvases and other print products. We can also provide more information on our Wedding Collections and introduce you to our team! We would love to help, connect with us now.