Wedding planning is going smoothly and you're finally onto one of the most important decisions of the day: how many bridesmaids should I have?!? You and your future spouse are surrounded by lots of loving family and an insane number of besties – it looks like a large bridal party could be in your future! The question is, is a large wedding party for you? Some couples hesitate at the mere idea of having a lot of bridesmaids and groomsmen, – there are some compelling reasons to keeping your wedding party small, but there are actually a lot of advantages to having a larger crew as well. If you're still not sure if you want to keep things intimate or to call on every bestie to represent, check out some of our tips below to help make your decision on having a large bridal party.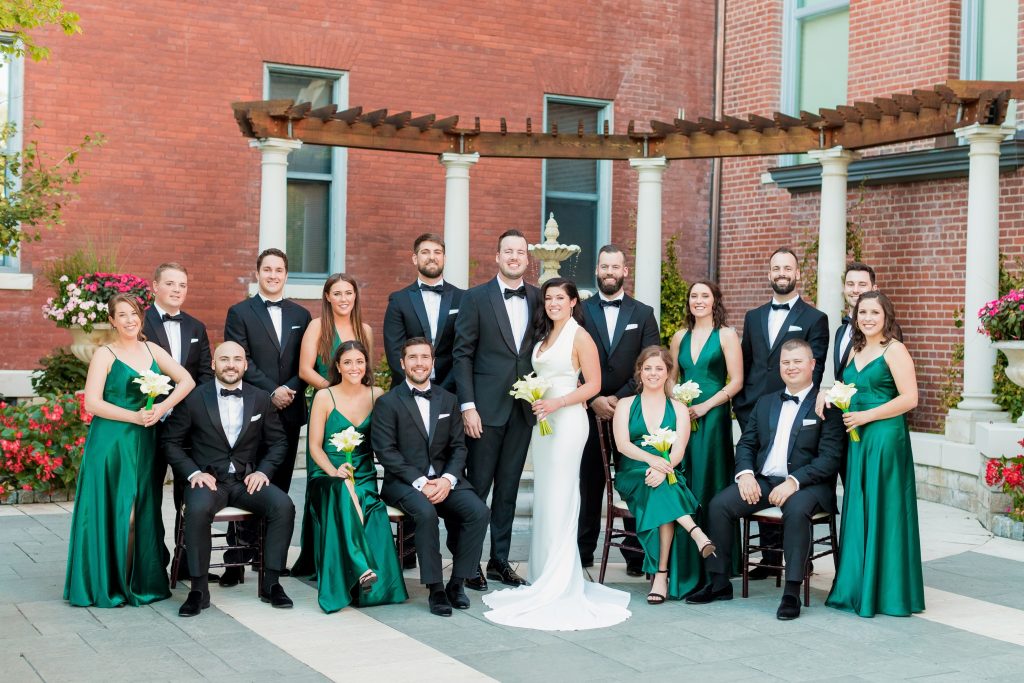 PROS:
No hurt feelings. Often times, a smaller bridal party means excluding some family or friends and making others feeling left out. With a larger wedding party, you don't have to limit yourself to an arbitrarily small number and can add all of your sisters and friends without disappointing too many people.
More help with planning. A larger group of your besties can be extremely helpful when it comes to planning and pre-wedding events. Whether it's needing help to assemble all of the wedding favors, or needing extra help with transportation for out-of-town relatives, to just needing some extra helping hands, the odds are greater when you decide to go with a larger wedding party.
More fun with the wedding attire. Smaller wedding parties tend to wear the same thing, while a larger bridal party can inspire you to mix and match the bridesmaid attire to look more visually interesting. And not to leave the men out, you can always decide to get creative and have the groomsmen in different suit or tie styles.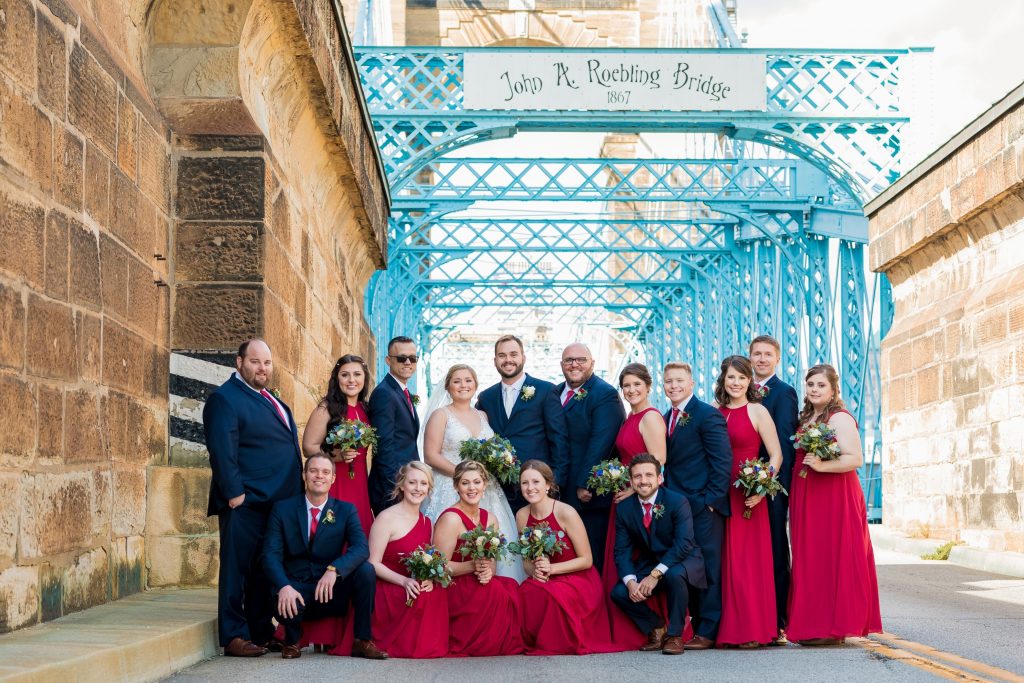 Really fun and amazing parties and showers. With a larger bridal party, you can definitely expect your bachelorette and bachelor parties will be full of excitement and surprises. And with all or your besties in tow, it's always a blast to celebrate surrounded by your closest loved ones before your wedding day!
Getting ready will be a celebration all it's own. With a large wedding party, the pre-ceremony getting ready process will feel like a party, and sure to help quelch your pre-wedding jitters. A big lively group of your closest family and friends helping you get ready, playing music, laughing, and having fun, can be one of the best things in helping you keep your mind on what your entire wedding day should be about – celebrating!
It's all about love. More can absolutely be merrier, and it is truly an amazing feeling to be standing at your ceremony and finding yourself surrounded by so many loved ones. Seeing all of the faces of your family and friends in your big wedding party who have chosen to stand by your side on one of the most important days in your life is one of the biggest reminders of just how many people support and love you.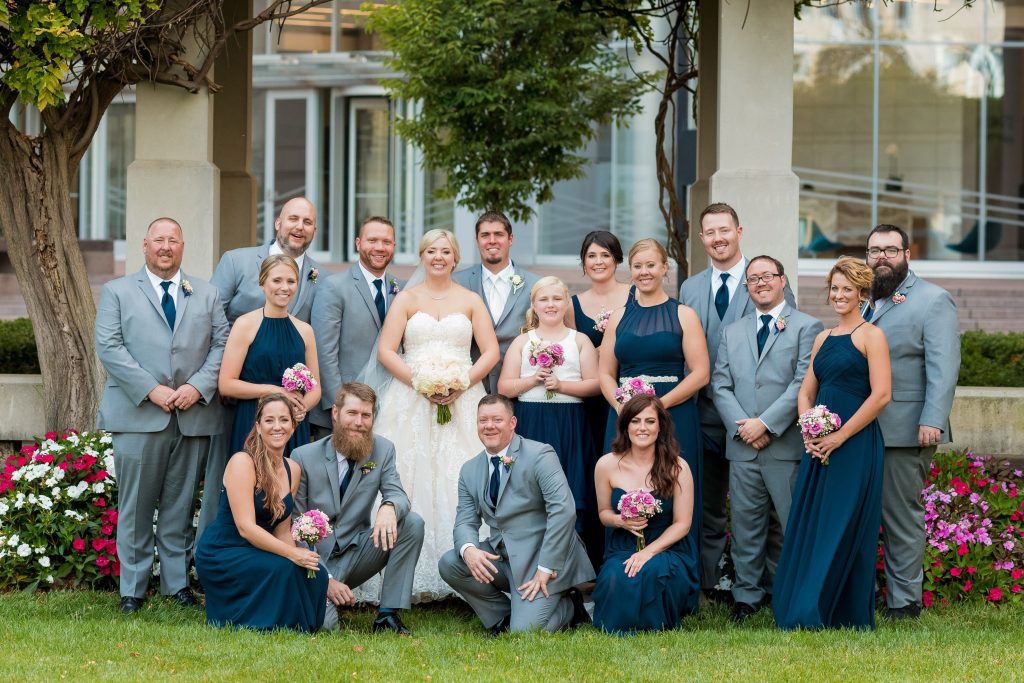 CONS:
It can come at a high cost. Even if every bridesmaid and groomsman covers the cost of their own attire, you still have to budget for the thank you gifts, bouquets, boutonnieres, hair and makeup, and possibly larger transportation. Not to mention that a large bridal party can impact the rehearsal dinner guest count, especially if they have significant others.
Too many personalities. It's a given that with a larger wedding party that there will be more opportunities for drama. One or two problematic wedding party members can put a damper on the entire experience, especially if they're not part of the same social circles. It's important to choose your wedding party members wisely and if you have a non-negotiable wedding party member (brother or sister, for example) who is a wild card, keep a close tab on them and how the group as a whole is getting along.
Too many opinions. Having a large bridal party can be a great source for opinions on everything from your wedding dress to the flowers. Basically, opinions on everything. Sometimes unwarranted and unneeded, but you'll get so many opinions. Having too many opinions can be confusing, and stressful and make you regret at times having a large wedding party. Choose an inner circle of your family and friends to help you with the really important wedding planning decisions. There's no need to get overwhelmed with opinions on every aspect of your big day.
Pre-wedding coordinating chaos. With a large wedding party also comes the complications of schedules, budgets, and as above, opinions. It can hinder plans for arranging bachelorette and bachelor parties, and showers can get complicated. Make certain that your pre-wedding planners (most likely, your maid of honor and the best man) are great planners and peacekeepers.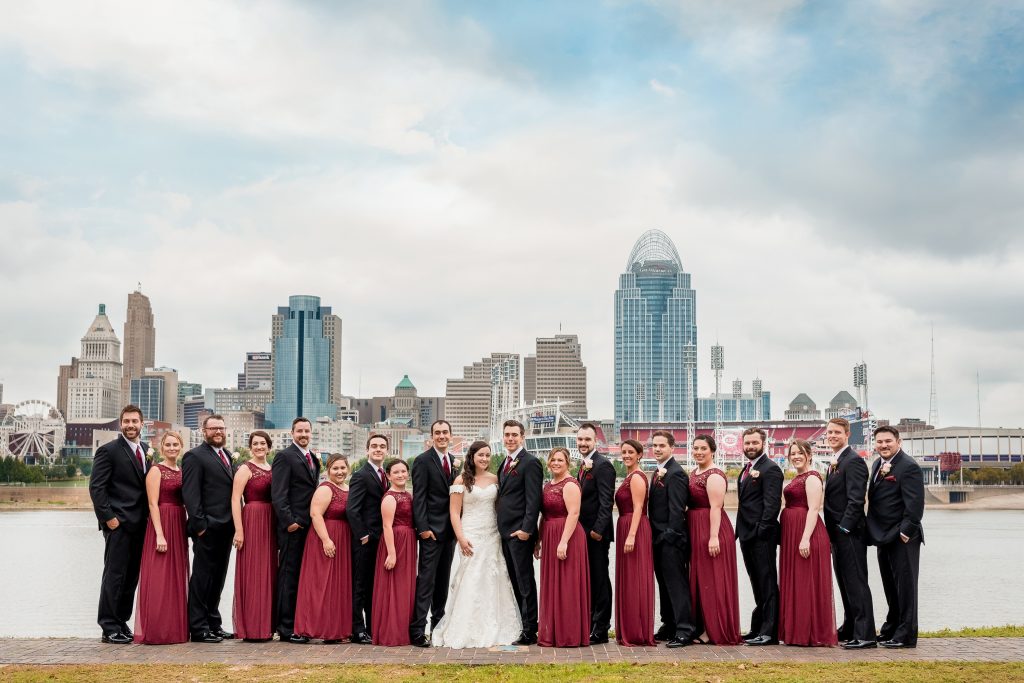 About Adam and Keli
Creative. Clean. Different. We are a husband and wife team of creative professionals in Cincinnati, Ohio with a passion for weddings and storytelling. Founded in 2015, our portrait studio has been recognized as one of the best wedding photographers in the Greater Cincinnati Metropolitan Area by leading publications and websites. We would love to invite you out to our Northern Kentucky studio to meet with us while showcasing our albums, canvases and other print products. We can also provide more information on our Wedding Collections and introduce you to our team! We would love to help, connect with us now.